SiteGround Hosting Review: Pricey, But Worth it
November 10, 2019
If you know of web hosting and the industry it makes up, then it would come as a surprise to me if you haven't heard the name SiteGround anywhere. Being one of the most popular and one of the oldest companies operating in the industry, you must have been living under a rock if that's the case.
Founded in Bulgaria in 2004, the company is known for its global orientation and performance first mantra. Serving almost 2 million domains worldwide, it would be an understatement to call it a small and budding company.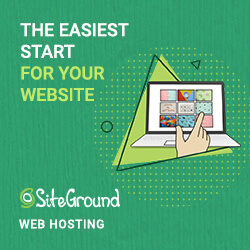 They have made quite a name for themselves for providing some of the best performing servers in the industry and the best customer service in the industry. I know for some of you, that may sound odd, but bear with me for a few minutes, you will get what I mean.
SiteGround is one of the best web hosts on this planet, there is little doubt about it if any. But how good are they? Is it all unicorns and rainbows or is there a little bit of a cloud that leeches the colors out of it?
Well, to be honest with you, it is pretty much unicorns and rainbows, but they do have somethings that made me feel like they are just off from being the best web hosts on the planet.
Performance 
Oh, where do I even begin, and I mean this in a good way. There are a lot of things that SiteGround is doing right when it comes to performance. So, let's start with uptime first. If you want to see some of the highest average uptimes in the industry then SiteGround would be a good place for it.
I have used their service for nigh on a year now and tell you what I haven't seen it dip below 99.99% and that is impressive. Let me put it into perspective for you, the industry-standard itself is 99.94% and many companies, even the top ones struggle to stay on terms with it.
On top of that, they even give you an uptime guarantee and promise to compensate you if it does not meet the standard. You know that a company is good when they give you an uptime guarantee and a 99% one at that!
Support
Like I said already, SiteGround provides the best customer service in the industry. I am not just trumpeting propaganda here. They do provide excellent customer service in a business where customer service is generally horrible.

Getting in touch with them is fine, its what comes after that surprises me. Usually, you would have to wait, but SiteGround gets in touch with you within a minute. But the best part is that they have everything in place in such a manner that you wouldn't have to go for their reps in the first place.
I'll tell you what, I have never had to call their reps for anything except for this test and that's saying something.
But customer service isn't everything, is it? No, but you get a lot of other things as well with SiteGround. You get free site migration, which is a real headache on your hands. If you ever see the words DIHY migration, then run for the hills. It is just more work on your end that could have been easily done by the web host.
So What's Off?
The Prices! The prices are sky-high when you compare them to other web hosts. Don't get too alarmed though. You usually get steep discounts of more than 50% when you sign up for their service. They have a discount of 77% that is currently on offer which you can check here.
If that was all the problem, I could have lived with it, but SiteGround simply finds more ways to get you to pay without hurting their product. You have to pay setup fees of around $15 on their monthly plan.
 Again, this is not exactly a deal-breaker as most people don't go for monthly plans. You might also want to note that SiteGround is one of the handfuls of web hosts who even offer monthly plans in the first place.
My Word
Go for it! You might have to shell out a little more, but it will be worth it. The performance is as good as it comes and the customer service knows everything to get you back on track. I wouldn't even mind paying the $15 setup fee, for the service I get and considering the discounts into account, you may not end up paying such a high price anyway.