ScalaHosting Review by Our Experts: Host Info, Major Pros
April 6, 2020
Scala Hosting might be quite new when it comes to providing web hosting services but don't let that fool you as they pack quite a punch. Well, the punch might not be as strong as the big player in the game but they do have the strength to compete against those big names.
So, it doesn't matter whether your website is small or big, any kind of business can choose Scala Hosting and you will be quite surprised with what they provide.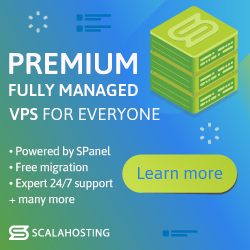 The main focus of Scala Hosting is to provide scalable web hosting solutions and the best part about this company is that it has its own in-house security solutions as well. The hosting services provided by them are secure and fast and their customer services are quite as well. Scala Hosting provides you with the option of choosing between shared hosting, email hosting, reseller hosting, WordPress hosting and cloud hosting as well.
What are The Technologies Used by Scala Hosting?
As, we mentioned before, that Scala Hosting packs quite a punch. The reason behind that is the fact they use some advanced technologies that are quite not available with the other hosting providers. So, let us discuss a bit more about those technologies in detail down below.
SPanel:
Well, the name may sound a bit different but almost everything is the same when compared to the cPanel. The only difference here is that the SPanel is very lightweight when compared to the cPanel and just like the cPanel, users can quite easily manage their domains and all of their accounts. The other benefits of the SPanel are that it allows the user to monitor the server activity with ease.
Apart from that, the owner of the accounts will be able to gain access to the admin panel as well and this would provide them with complete control over the server. By complete control, it means that the user can monitor and restart the services without any hassle.
SShield Security System:
This one is quite similar to the SSL certificates provided by the other hosting providers but this one is actually better. This one is actually an AI that can detect any malicious activity and the best part is that it is totally automated.
This one doesn't require anyone to manually update the database with all the new malware and viruses as a machine intelligence makes sure that it gets updated regularly. The system also runs 24/7 and whenever any problem arises it will alert the users instantly and the company also claims that the SShield has the capacity to block all most all web attacks.
SWordPress Manager:
Now, this one makes the deal sweeter. What this one does is help you in managing all the WordPress websites much easier and along with that it also adds quite a lot of layers of security. You can also manage unlimited websites with the help of this and the best part is that you don't have to be a rocket scientist to use this.
SWordPress Manager will provide you with the power to install WordPress within a few seconds and along with you will also be able to reset admin passwords with ease. A few more features such as cloning, staging is in the developing stage and will be made available to the users quite soon.
Types of Hosting–
Shared Hosting:
Scala Hosting has quite a lot of fabulous Shared web hosting plans. Basically, there are three shared web hosting plans and they have quite a lot of features as well.
Mini:
Mini is the most basic plan that is available with Scala. It comes with a bunch of features such as Free SSL, Free CDN, Free Domain, unlimited databases, unlimited bandwidth, unlimited Emails. It also comes with white label hosting and free migration and a few other features. And it has been priced at just $3.95/mo.
Start:
This the second shared web hosting and nearly all the features of this plan are similar to the mini-plan but this one has a few upgrades such as the SShield Cyber-Security, unlimited storage, and unlimited websites and double CPU power. And all these are available at only $5.95/mo.

Advanced:
The third shared hosting plan of Scala and all the features are the same with a few upgrades such as Pro Spam protection, SEO Analysis, Priority support and 4 times the CPU power. All these are available at a price of $9.95/mo.
Email Hosting:
The email hosting has 4 web hosting plans which are the StartUp Plan, SmallBiz Plan, Medium Plan, and the Corporate Plan and these are priced at $2.95, $3.95, $5.95 and $7.95 per months respectively. Depending on the plan you will be able to send around 100 mails to 1000 mails per hour.
Now with each plan, you will get a variable amount of Email storage, Email boxes, and Email domains. But that not all few features like priority support, pro spam protection, normal spam protection, web-based emails, and a few other features are available as well.
Cloud Hosting:
There are two types of Cloud Hosting, Managed Cloud VPS Hosting and Self-Managed Cloud VPS. The first one has 4 different types of plans with itself which ranges from $9.95 to $63.95 per month and comes with quite a lot of features and as the prices of the plans increases, so do the features of the plans as well. SPanel control panel, daily remote backups, SShield security protection, dedicated IP are some of its features.
The second one also comes with 4 different types of plans that range from $10 to $49 per month. You can see the difference in the features of this plan as you go towards the bigger plans. The best-seller plan of this hosting is the advanced plan and this will provide you with 2CPU Cores, 4GB RAM and 70GB SSD and you can avail this plan at a price f $19/mo.
Word Press Hosting:
WordPress Hosting also has three different plans which are namely, WP Mini, WP Start, and WP Advanced and each of these plans have been priced at $3.95, $5.95, $9.95 per month, respectively.
Now each of these plans has a similar set of features such as free SSL, free CDN, Free domain, SSD powered servers, Optimized WordPress, Free malware scans, unlimited emails, unlimited database, unlimited bandwidth and so on. Apart from these, they also have some features that get better just as you go high up.
Reseller Hosting:
The reseller hosting plans are divided into three parts and these are the Scala1, Scala2 and Scala3, which are priced at $10.95, $20.95, $32.95 per month respectively. These plans have quite a lot of features as well such as free migration, private nameservers, free SSL, free CDN, SSD powered servers, Free domain reseller, 100% white label and 30 days money-back guarantee. Apart from that as you go up, the storage, bandwidth, cPanel accounts, shared environment, and similar features also increase in numbers.
Major Pros of Scala Hosting
Performance (Uptime & Loading Speeds):
One of the most astonishing things about this web hosting provider is that for both VPS and shared hosting plans, they guarantee an uptime of 99.9%. But upon testing it ourselves we happen to stumble on the fact that their actual uptime is 99.95%, which is pretty good depending on how long they have been in the game. So, if you calculate accordingly, the weekly downtime that you might face is of about 10 minutes.
Moving on from that, along with the uptime we also happen to find that their site load speed is around 406ms and that is a very good number. So, you can say that it takes less than 1 second for sites on their servers to load.
Feature Rich:
All modern-day bloggers are in need of hosting that are of the top-brass and Scala Hosting provides the same thing to you. Their SPanel control panel helps you in distinguishing admins from users and thus increases privacy and security.
Their dual data centers can provide worldwide coverage and are of top-level hardware. Along with that, the facilities have the highest level of security and redundancy. If these are not top-brass materials, then we don't know what would be.

Good Customer Support:
Well, who doesn't promise to provide 24/7 Customer Support? And how many of them do actually, follow through? Well, very less. But Scala Hosting will provide you with 24/7 seamless customer support and you will be able to reach them via Live Chat, Email, or Phone.
The response timing is quite good actually as we were able to get all our queries answered with a span of 3 minutes. But the only downside is that their pre-sales and billing hours are from 2.30 AM to 5 PM every Monday to Friday.
Conclusion:
Scala Hosting is a very competent company that offers good features, extraordinary customer support, and great performance. The hosting plans offered by them provide a great value of money. Apart from all these, they actually do provide what they promise.
By our understanding, we would recommend Scale hosting as we have found their features and plans to be quite promising. So, if you are looking for reliable and top-notch hosting providers, then Scala Hosting would be an ideal choice.