Interserver Hosting Review: Features, Host Performance and Stats
April 24, 2020
If you are looking for bargain web hosting but don't want to sacrifice quality, well, InterServer is your best pick. InterServer provides its customers with great benefits as all of its plans come with great customer support, SSL certificates, and a money-back guarantee.  
InterServer has been providing reliable services since 1999. So basically, they have been in the business for over two decades and still, the services provided by them are reliable and top-notch.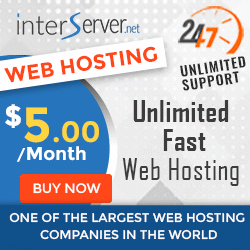 Pricing for InterServer: 
Unlike every other web hosting provider, InterServer doesn't have a bunch of shared web hosting plans. It has just one shared web hosting plan and that would cost you around $5/mo. But that's not all, if you are purchasing it for a year you will get a discount of 10%, the plan gets cheaper when you purchase it for 2 years as you would get a discount of 15%, again, a 3-year plan would cost get fetch you a discount of 20%. 
So, the 10% discount, that is available only if you purchase for 1 year would be around $4.75/mo. Likewise, the 2-year plan would cost you around $4.5/mo. and the 3-year plan would be around $4/mo. and that's not even the best part. Most web hosts increase the pricing right after the renewal but InterServer is quite the opposite. Even after the renewal of the plan, the prices remain the same. So, if you are choosing the 1-year plan and continue to use their services, your monthly amount will still be $4.5/mo, which is a great advantage.
Here are some of the features of the shared hosting plans provided by InterServer. 
cPanel:
When it comes to control panels, without a doubt cPanel is the best. The reason behind this is that it has an easy-to-use interface, it's highly visual and has lots of guides and support for using this with ease. Along with that it also provides you with full authority of your account. 
One-Click WordPress Install:
This is another fantastic feature of InterServer. For newbies, installing WordPress becomes a huge issue, so if you are a newbie, this one will be one of the best features for you. You can install WordPress with just a single click.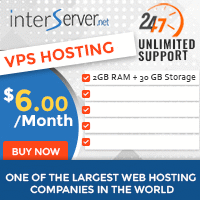 Server Capacity:
The issue with most web hosts is that their server overloads and there are very few resources for your website, thus making it less reliable. But InterServer uses only 50% of its server capacity, thus reducing the load a lot and this eliminates all the issues that other web hosts face. 
Performance of InterServer:
The performance of hosting providers are measured by looking at a few parameters. The first one is the response time of the website. Response time is the time that a server requires to load a website. In the case of InterServer, it was around 14ms, which is regarded as an extremely great outcome. According to Google anything below 200ms is regarded as extremely well, so you can quite easily understand how good it is. 
The second is uptime. Now, most web hosts claim to provide 99.99% uptime. Some do deliver this but most of them aren't able to provide that. InterServer is one of those web hosts who provides what they promise and as they guarantee, they do provide 99.99% uptime. 
So if you can quite understand how good of a service they provide just by looking at the response time and the uptime provided by them.
Customer Support of InterServer: 
Now, there are quite a few big names out there who are not able to provide a customer with proper support and InterServer is not one of them. The customer support of InterServer is available 24/7 and for 365 days a year. So, if you face any issues you can just call them up or get connected via email or even better you can use their live chat option. The staff is very supportive and reliable and will help you out until your issues are resolved. 
Pros and Cons of InterServer: 
Here are some of the Pros and Cons of InterServer.
| | |
| --- | --- |
| Pros | Cons |
| One of the best server performances | The direct support option in the cPanel is absent. |
| Very cheap pricing  | Only one hosting plan is available |
| Unlimited Bandwidth and Storage capacity | |
Conclusion:
Now, there might be a few disadvantages of choosing InterServer, but when compared to the advantages, the disadvantages seem like a speck of dust. I don't think there are any web hosting providers around, that are willing to provide this many features at such low prices.
If you are someone who's new to the game, then my suggestion would that you go for InterServer. And if you don't like the services, then you can always opt for the 30-days money-back guarantee.