FastComet Hosting Review 2022: Which plan should you choose?
June 12, 2020
FastComet is one of the most successful private companies in the hosting business across the world to have a massive number of users. Their servers are cleverly spread across Amsterdam, London, Mumbai, Singapore, Chicago, and Tokyo, which is one of the main reasons that FastComet received an edge over the others is because the users could connect without any hassles and deliver high performance.
FastComet began to exist in 2013 with its headquarters in San Francisco. Since then, they started growing up to having 50,000 active clients around the globe, more than 20,000 cloud nodes, and a super-efficient team of 70 employees. They claim to have the best support worldwide mainly because they have ten server locations that can be comfortably accessed by any user worldwide.
Features & Plans 
The main reason why fast comet has a good number of users is that it has featured plans for all, from the tiny startup business to the hustling e-commerce store. This is not all; FastComet comes along with a few latest and unprecedented tools with an additional promise of pricing integrity as well. 
Shared Web Hosting 
To begin with, the advantages of FastComet shared hosting such as cPanel hosting, softaculous one-click installer for apps such as Joomla and WordPress, 24/7 support with detailed tutorials. Moreover, FastComet is one of the best bargains in the market because, unlike most hosting providers, it not just gives you "free domains" for a year. Still, the domain registered on FastComet's web hosting is literally free forever. This is also applicable to transfers of already-registered domains as well. In addition, you will also receive the SSL certificate, Cloudflare CDN, and Unmetered traffic as well.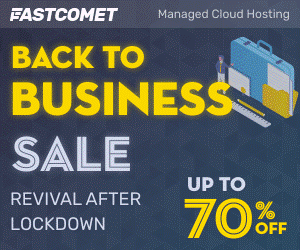 Daily back-ups
Whether we like it or not, we are sure to run into site generated problems that threaten to disrupt all the hard work you've put in since day one. In order to stay in the game every day, we need to be backed up. If you have chosen FastComet, then you need not worry for the following reasons:
Firstly they offer free daily backups, which is extremely rare for a value plan. Secondly, they store the data for the users safely off-site for nearly 30 full days. Lastly, they l help you restore older versions of your site within just a single click if needed.
Cloud VPS Hosting 
FastComet's cloud VPS hosting can be an excellent choice for medium-traffic receiving websites. It can provide VPS servers within a couple of minutes, so you can start working on your site immediately after you sign up. FastComet also ads on the following features with all Cloud VPS hosting Combos: Free backups, cPanel Control Panel, Rapid scalability, snapshots, and restoration. 
WordPress Hosting
In the WordPress hosting,  you will not only receive a free domain name but also be covered with the fees for a lifetime with FastComet and not just the initial year like other hostings. Moreover, you also get easy one-click WordPress installation, SSD drives in the form of solid-state drives, which are quicker than HDD drives and have the ability to increase the performance of WordPress site by up to 300 percent. Cloudflare CDN is also available so you can cache your website and serve it from a nearby location.
Important Features
Data Centers: As mentioned earlier, the most significant advantage of associating with FastComet is that they have powerfully placed their servers worldwide, such that the user sitting anywhere in the globe can get superior service. The locations of the data centers include Amsterdam, London, Mumbai, Singapore, Chicago, and Tokyo.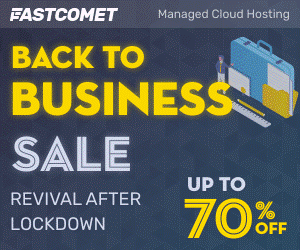 Performance (Loading Time & Uptime): After experimenting for a couple of months, FastComet quickly places its services against many other hosting providers in the industry. However, their uptime routine started strong. In the first few months, they showed a flawless 100%, with the following months dipping slightly. But the sink was seen only till 99.6%, so the average comes out to about 99.97%!
Website Server Security: FastComet provides DNS and DDoS Protection for its users. Resolving your domain problems through the DNS service is the most famous variant of accessing your website as it can be an easy target of DDoS attacks, resulting in downtime or website performance degradation. With Cloudflare, which is the leading managed CDN and DNS service provider, these threats can be tackled. You can improve your website security and speed by enabling the DDoS protection and Cloudflare DNS with a simple click via your hosting control panel. 
Customer Support- Greatest benefit of a growing team is that they provide exceptional service at fantastic speed. Mostly over-powering the giants in the industry. As soon as you have registered your query, the live chat pops up. In most cases, like other customer support providers, you have no idea who you are speaking with. But there is a good chance you will see the picture of the person helping you. You will notice that they are super-friendly, knowledgable, and answering your queries within seconds. It shows he or she a real person who's friendly and wants to help.
Which plan should you choose?
Shared Hosting:
With the 45-days money-back guarantee, you can choose the Shared hosting without a doubt. Features such as Drag and drop site builder, free domain transfer, daily back-ups, site transfer, and fixed renewal fees you can blindly make it your first pick. Especially if you own a newly started business, this a plan that will benefit the most. 
Conclusion:
There is no doubt that FastComet suits everyone, starting from the startups to the big companies. If given a choice, I would definitely go for Shared hosting, as according to the study and customer feedback, they are dependable and fast. On top of that, there are no costly renewal rates or hidden fees. It's not just a great company but a better host.