Best Instagram Scheduling Apps
July 1, 2020
0
By
Manne Jatin
Posting consistently is one of the major factors to win the race of ranking of Instagram page on the top by impressing the Instagram algorithm. You might forget posting a day or two and that would straight away affect your page and so in order to avoid that you can consider the below listed Instagram scheduling apps.
Hopper HQ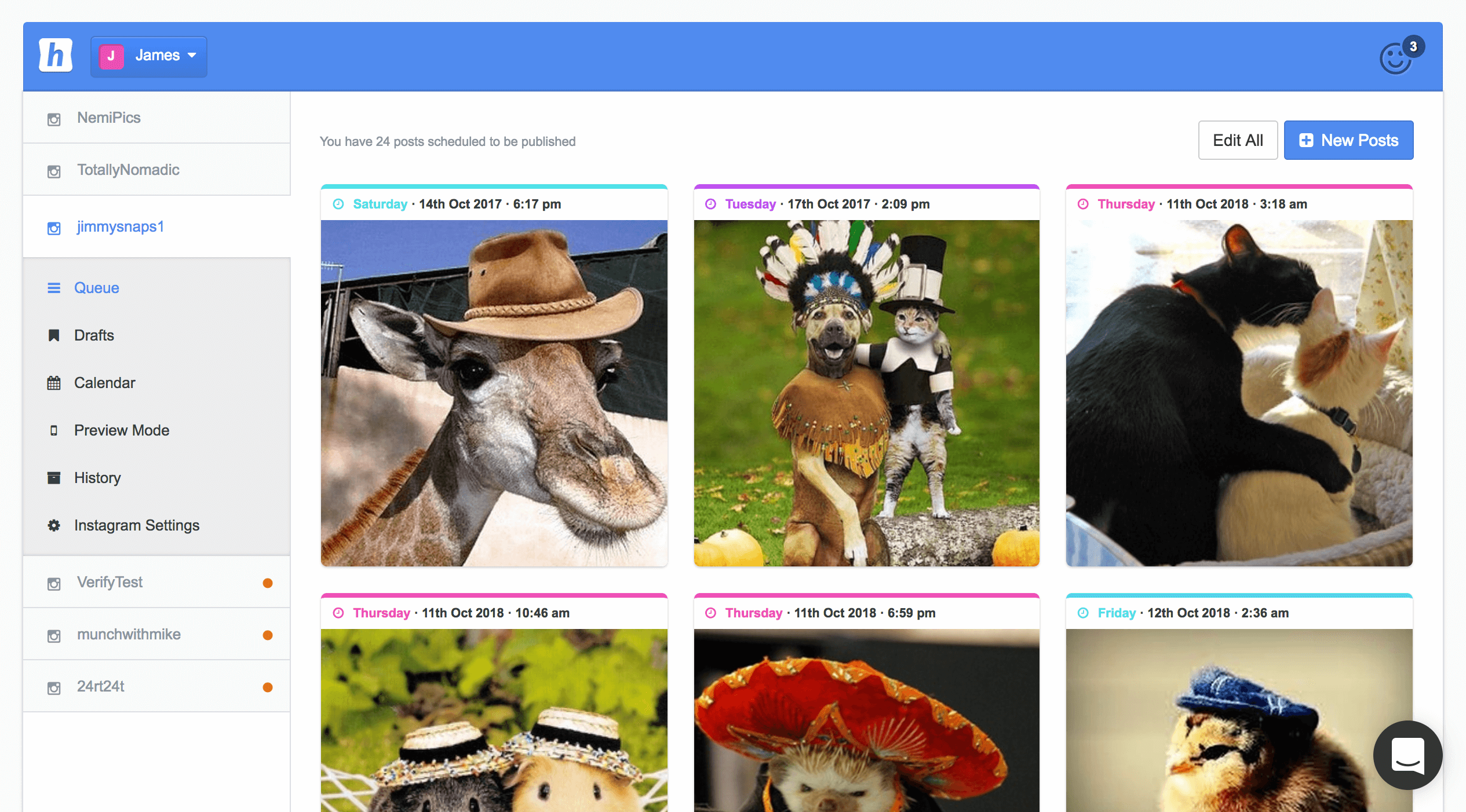 Hopper HQ has been consistently ranked as one of the best scheduling tool made available for Instagram platform. The tool is equipped with numerous benefits and some of which includes planning and scheduling Instagram posts even via mobile phones, posting automatically to Instagram which means no post reminders are required. Moreover the tool is verified by Instagram which means you no more have to deal with spam accounts and such more. Hopper HQ is a premium tool which gives complete value to what you pay for. However, to understand the working of the tool, you can opt for its 14 day try version to check whether or not the tool suits your needs.
ScheduGram
ScheduGram is another most popular scheduling tool is our list for Instagram. The various benefits offered by tool are- uploading of photos and videos from the web, cropping, adding filters and texts or even rotation of the images, posting of Instagram updates and or schedule it for later, bulk loading of images for Instagram, managing of multiple posts together for Instagram. Also, the tool will help you manage multiple Instagram accounts and create multiple users in order to manage all your scheduled Instagram content.
ViralTag
Instagram and Pinterest play a major role in the business and so with Viral Tag you can manage these two social media platforms effortlessly. Some of the efficient features of the tool includes identifying of best times to post on Instagram, finding the right quality content from the customers on Instagram as well as curate the content from the RSS feeds. The tool is a premium one to opt for but choosing this would be one of your best decisions.
Onlypult
Onlypult is also one of the most reliable scheduling tool for Instagram. However, the tool offers a strange range of benefits which has helped the tool stand out of its competitors, some of which includes- uploading photos and videos via pc to Instagram, creating multiple user accounts, tracking and measuring on Instagram analytics which no other platform performs, tracking of competitors as well. Moreover, with this tool you can manage upto 40 instagram accounts. The 7 day free trial account will give you a complete overview about the working of this tool. The base plan for 7 day free trial includes managing of upto 3 accounts, adding 1 manager and scheduling of posts.
And here the list of some of the best Instagram scheduling apps comes to an end. Hope, this article has been informative to you. Do share your reviews about the same.
To know more about Instagram, stay connected to us.
For queries and suggestions, feel free to get in touch with us.
Thank you for your time.
About The Author
HI, My name is Manne, I had always been interested in blogging industry , so that why I shared some thoughts about SEO,web hosting & Content writing. If you want to know more about this website. Please feel free to reach out to us. Thanks for visiting.