KnownHost Hosting Review: Things To Know Before Buying
June 5, 2020
Introduction:
KnownHost is one of the most popular web hosting services which specializes in Linux Based VPS, Dedicated and managed to host plans. But they also have varieties of plans in different Shared Plans, Dedicated, Managed as well. In the world of hosting, where we get dozens of cheap services to choose from, the KnownHost keeps its remark and provide the best services at a very affordable price. So, can you trust this company? You will get to know soon, continue reading this article for further details.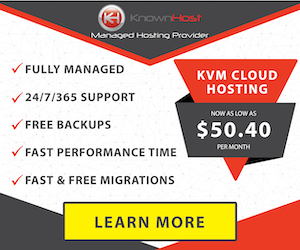 | | |
| --- | --- |
| Pros | Cons |
| Value for money on Shared, reseller and WordPress plans. | Support available only via tickets or pre-sale live chat. |
| Specialty on High End Hosting Such as Dedicated, Managed, Etc.  | Linux Only Hosting. No Windows. |
| Extensive features in each chosen plans. | |
Hosting Plans:
Like all other various hosting company, you visit KnownHosting also offers a wide range of plans and its features equipped in it. Below we will mention some of the top plans provided by the company, so without taking any further delay, let's get started.
If you are a beginner or an entry-level professional in this field and looking for the cheapest plan for your website then you must go with the Shared Hosting Plan. It is one of the most common plans for which the pricing starts from $3.47/month. The Shared Hosting plan by KnownHost is purely made for the high-performance website with secured cloud architecture which is fully managed and has amazing facilities for the users such as SSD Storage, Free Migrations, Email Accounts and many more.
Well, KnownHost's dedicated servers are located in Texas Data Center which is fully managed basis. So, you don't need to be an expert of Unix to use them. The pricing of this plan starts as low as $159 per month which includes some top features such as 8 GB of RAM, 6 TB of Bandwidth along with 256 GB SSD plus and 1 TB SATA Storage.  

Specialized with fully managed operations the VPS Hosting by KnownHost has impressive specs such as 2 CPU Cores, 2 GB of RAM, 75 GB of storage, 2 TB of Bandwidth and many more. The pricing of this plan starts from $50.40/month which is also equipped with two other plans with more storage and features.
With Prices starting from $28/month the Managed Hosting plan by KnownHost gives you extensive support for your website if it's a growing website and has gaining traffic since the past period. It is one of the most affordable dedicated hostings as compared to others since you get the fastest disk for your I/O operations along with automated updates as well.
Why go for KnownHost?
As we have mentioned all the best plans by KnownHost above, there might be confusion among some of our readers that why do we choose KnownHost while we also have varieties of options in other companies or services. Well the answer of all your queries are listed in brief below, kindly do check out all of those:
One of the essential parts of every hosting provider is the pricing that they offer. Well as we have discussed before there are varieties of options available so KnownHost has able to tackle all those in terms of pricing. The lowest price of their plan starts from $3.47/month which is relatively small as compared with others.
Speaking about the performance in which every user expects the best in terms of uptime and other site performances, we can also trust KnownHost for the same. They have guaranteed 99.99% uptime, some of the top users say they have never faced any issue with the uptime even a single time for an entire year. Hence the performance can be trusted without having ant second thoughts.
Customer Support is something that any business requires the most with 100% efficiency and results. With 24/7/365 support by KnownHost over Emails, Chat or Tele Calling you will get your problems resolved within minutes. The executives are highly trained and professionals with excellent communication you can expect.
Well, you might be aware of the fact that most of the popular hosting companies are owned by any parent company. Whereas KnownHosting is an independent privately owned company based on the US with an expert team managed by professionals for over 20 years.
As we have described some of the best plans offered by them with their list of features presented by each plan they have. Let us share with you some of the other tons of feature that you will get from KnownHosting which will surely give you the confidence to buy hosting from them:
Softaculous 1- Click installations: With this feature, you will be able to install various types of software such as WordPress, Wix or any other with just a single click.
SSD Hosting on New Accounts: As we are aware of the fact that SSD's are faster than standard HDD so this feature will surely help you in input-output operations for fast data transmission.
Free Migration: With most of the sites with the basic configuration you can migrate it for free with KnownHost.
30 Days Money Back Guarantee: If you are unsatisfied with their services or plans then you can surely opt-out and get your refund instantly.
Free Data Backups: KnownHost also provides you with free data backups for your websites so that you can overcome your accidents.
Conclusion
Overall, KnownHost is an ultimate solution for those who are looking for a powerful web hosting solution for their website. They are the best in plans which offer extensive features such as SSD storage, Free Migrations, Data Backup, and many more. Customer Support is excellent and has responsive results for any queries you post, which makes it the best independent company for Hosting Service.